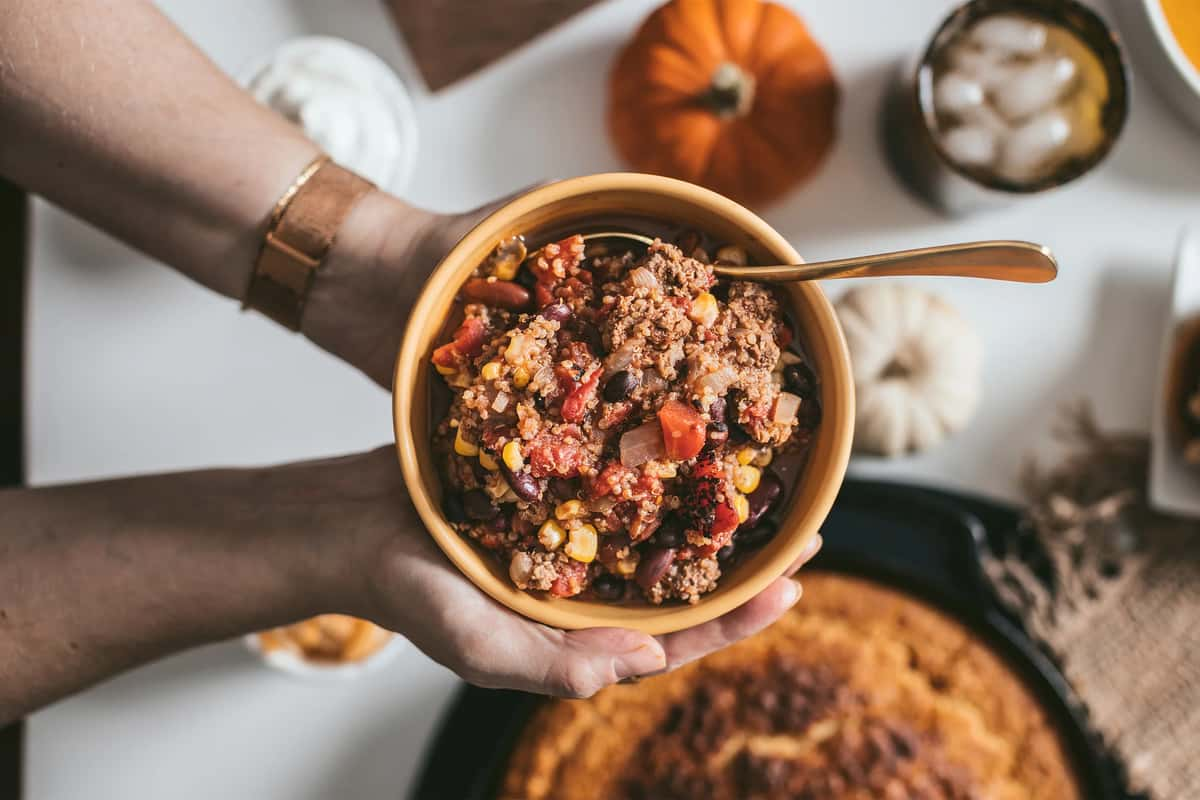 Photo courtesy of calicutts.com
Soup Recipe: Chipotle and Honey Quinoa Chili
Soup season has arrived! There's just something so comforting about stepping inside from the cool weather to enjoy a warm bowl of soup. So if you're ready to warm up this season with a delicious bowl of soup, Epicuse has got you covered with a deliciously comforting soup recipe, courtesy of one of our beloved vendors, Calicutts.
This recipe is a Chipotle and Honey Quinoa Chili. The chipotle flavor gives a hot kick, while the honey adds a dash of sweetness. The two flavors come together to create a perfect balance that'll keep you warm and cozy all winter long. Best of all, this recipe is quick and simple to make!
Here's what you'll need to get started:
-1 Tbsp Olive oil
-1 Sweet onion, diced
-4 Garlic cloves, minced
-1 lb Ground beef or bison, if desired
-1 Tbsp Calicutts Chipotle & Honey Spice Blend (Available for purchase at Epicuse)
-2 28 oz Cans Fire roasted diced tomatoes
-2 15 oz Cans Crushed tomatoes
-1.5 C Quinoa, cooked
-1 15oz Can Red kidney beans, drained and rinsed
-1 15oz Can Light kidney beans, drained and rinsed
-1 15 oz Can Black beans, drained and rinsed
-1.5 C Corn, frozen
-Shredded cheese, to taste
-Sour cream, to taste
-Green onions, to taste
-Avocado, to taste
Here are the instructions for making the chili:
Heat olive oil in a large pot.
Add in onion and sauce for 3-4 minutes, until tender.
Add in garlic and cook for an additional minute.
Add beef and Chipotle & Honey and cook for 4-5 minutes until browned.
Add diced and crushed tomatoes as well as cooked quinoa. Cover and simmer for 30 minutes.
Add in all the beans and corn. Cook for a few minutes to heat through.
Serve immediately with desired toppings!

Stop in and pick up some Calicutts Spice Co. seasoning at Epicuse!

Epicuse is located in the heart of downtown Syracuse. Our market offers fresh food made daily, heat-and-eat meals and a variety of unique pantry items, including the Calicutts Spice co. Chipotle and Honey seasoning. We also offer a variety of other flavorful seasonings from Calicutts.
Check out the full recipe from Calicutts blog here.